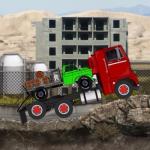 18 Wheeler Heavy Cargo
18 Wheeler Heavy Cargo is a free game to play at Friv 5. Get ready for a new truck challenge! Do you like cargo truck games? This game is the perfect game for you. Let's enjoy!
How to play?
Use arrow keys to balance and drive the heavy loaded truck and the cargo that you are caring to the finish line.
You can also play 18 wheeler double cargo
Rating: 5/5 (1 Total Ratings)
Free