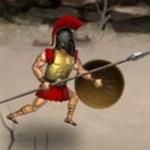 Achilles 2: Origin Of A Legend
Achilles 2: Origin Of A Legend is a Fighting game on friv games free. You can play Achilles 2: Origin Of A Legend in your browser for free.
Achilles was a warrior feared around the world and said to be the son of a nymph. It was rumoured that after birth he had been dipped into the river styx, that made him invincible. It was said that Achilles's mere presence on a battlefield would strike fear and grief into the opposing army. In this game you will act as Achilles, fight against the enemy with the brave spirit.
Graphic beat em up game. Use your sword and spears to take on the ancient army!
Don't forget to share this interesting thing with your friends and invite your friends to join the game to have moments of relaxation together. Why don't you challenge yourself to participate in games similar to Cold Justice and Infiltrating The Airship at http://friv5.me/. Wish you are always a lucky player!
Control: Follow in game directions
Rating: 3.8/5 (13 Total Ratings)
Free