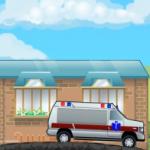 Ambulance Truck Driver
Ambulance Truck Driver - Save the sick or injured! You will become a hero by driving your ambulance. When you pick up the patient, take them to the hospital as quickly and carefully as possible. Make money by paying for insurance premiums to upgrade your ambulance!
Ambulance Truck Driver - Is one of the most popular games we have chosen on http://friv5.me/
Drive as fast as possible to the patients location and transport him back to the hospital carefully, trying not to injure him even more. Get insurance payouts for each successfully transported patient and upgrade your ambulance van when you can.
Can you play this game? Click friv5 to play this game. If you want reading orther game , please go to blog http://friv5.me/ . Much Fun
Rating: 5/5 (1 Total Ratings)
Free