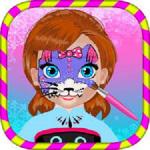 Baby Anna Face Art
During the party, Baby Anna really needs an artist to help her while she has fun! As one of the best face-art artists at http://friv5.me/, can you join Anna in this new game: Baby Anna Face Art? All you have to do is to use your artistic skills and drawing technique to paint the most beautiful face art. It would be great if you can help Anna to become the most beautiful baby and outdo her sister, Elsa! The competition is on!
Choose a model among many samples such as a cat, rabbit, bunny and many more to draw on her face. Or you can just freestyle and come up with an entirely unique painting. You need to trace the dots to draw the frame. Then use the available color to paint accordingly and mix and match as well. It's all about making the most colorful and bright face art ever!
Only the painters who can spread the imagination will be able to win the contest. But since it's a suitable game for kids of all ages, you will be able to enjoy the atmosphere of the party and have fun while making art. Friv5.me girl game has plenty of games which are updated daily to satisfy all the fans of Anna. How about some other girl games like Rapunzel and Anna & Elsa Make Up Game to waste away the time? With these games, there is no doubt that your fashion sense and knowledge will be enhanced significantly.
How to play: choose the pieces and match using the left mouse.
Rating: 4/5 (5 Total Ratings)
Free