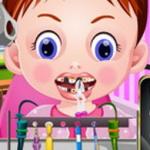 Baby Emma At The Dentist
Baby Emma At The Dentist is an Other game on friv 5. You can play Baby Emma At The Dentist in your browser for free.
Baby Emma has teeth problems and she must make a visit to the dentist cabinet.You will repair her teeth and make her a great smile with white and healthy teeth.
Help baby Emma get her teeth back clean and healthy! Use various tools to make her smile happily again.
Share this fun game with your friends and invite them to play. With vivid graphic design, you will feel great to fly in the air. If you love the game you can play more games like Barbie School Uniform Secret and Barbie's Maternity Design Studio at http://friv5.me/ for more fun experiences.
Rating: 3.4/5 (8 Total Ratings)
Free