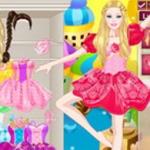 Barbie Ballerina
Barbie Ballerina is a Dress Up game on Friv 5. You can play Barbie Ballerina in your browser for free.
After Barbie Dancing with the Stars, Barbie has a fancy for ballet dancing now. Dancing and shopping are two of Barbie's favorite hobbies. Because Barbie is a girly girl and a fashion diva, she hopes to become even more graceful and feminine with the ballet dance classes that she takes.
Dress up Barbie in fabulous ballerina outfits mixing and matching beautiful princess like ballerina dresses, leggings, ballet shoes, jewels and hair styles.
Dress up baby Barbie for her ballet class turning her into a fabulous ballerina princess. Have a glance at her fashionable closet and try each ballerina dress on the little girl. Some fashion items are scattered all over her bedroom and you must find them.
We also bring other discovery games similar to this game such as Barbie School Uniform Secret and Little Dolls at http://friv5.me/. Are you ready for your journey and become the best player in the game? Play this today.
Have a great time playing Barbie Ballerina dress up game!
Rating: 3.4/5 (20 Total Ratings)
Free