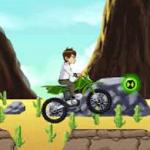 Ben10 Bike Ride
Are you ready to set off on a new journey on the bike with Ben10? Enjoy the best bike rides while collecting all the energy items is the goal of this new Friv5.me game. The road is very steep and filled with obstacles, which makes it very difficult to control the bike.
You, as the Ben10's partner, will show off your amazing driving skills on unique terrains and try your best to reach the destination without breaking anything! Can you see the little round items scattered on the ground as you ride? These are the energy items that will give you the high scores. While riding around, all the players in this game at http://friv5.me/ should be aware of the ramps, the bumpy road, and the obstacles.
Avoid hitting or crashing at all cost since this will slow you down significantly. Make sure that you also keep track of the clock to know how much time is left for you. There are many levels with different stories for you to discover with your friends! It's the chance to experience riding your bike with the famous character Ben10. Can you make it into the top of the list? If you are curious about more racing games like this, check out Werewolf Rider and Tg Motocross 2. Various games with cool features are updated each and every day for free! Only the best players can conquer those hard modes and get the best new record!
How to play: ride the bike using the arrow keys.
Rating: 4.4/5 (8 Total Ratings)
Free