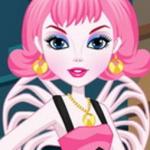 Ca Cupid
Ca Cupid is an online game that you can play on friv 5 for free.
Halloween is here ladies and gents so prepare for this Monster High Dress-up game which is featuring CA Cupid. She is ready for this holiday all you need to do now is finish her look by choosing a make-up some hairstyles and also a cool outfit. She will be going to a party but she wants people to recognize her so you do not really have to go crazy with your choices.
Have some fun with your favorite characters from monster high and if you have not already chosen your costume yet for Halloween you can inspire yourself from the ones you see here.
In addition, you also have the opportunity to participate in numerous other similar games like Frozen Sister Christmas Hairstyle Design and Dora Needs Tools at http://friv5.me/. Each game has its own content and you can save them to explore.
Rating: 4.5/5 (2 Total Ratings)
Free