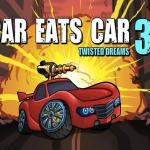 Car eats car 3
The third installment of the Car eats car series are here, at the friv game. Car eats car 3 offers you 20 levels to conquer and get a record of yourself.
This time, an evil cloud kidnap the lovely girlfriend pink car of the red car. Your mission is to help the red car rescue the pink one by destroying all of the enemies. Along the way, you collect diamonds and power-ups to upgrade the armor and speed of your vehicle. Besides, you can even upgrade the power of your special abilities such as speed boosts, gravity boosts, bombs and so much more.
Watch out! A massive of enemies try to destroy your too, so you must take advantages of the power-ups to eliminate as many evil cars as possible at one. How quickly can you complete each level? And can you save the pink car? Let's see! There are so many games related to the car are waiting for you at friv Games, check out.Final Ninja Instructions: You use arrow keys to move back and forward, X to use turbo and Space to release bombs.
Rating: 4/5 (2 Total Ratings)
Free