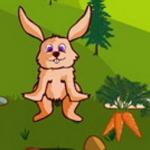 Cute Bunny Farm
Cute Bunny Farm is an online game that you can play on http://friv5.me/ for free. Zee and her best friend Cute the Bunny are visiting a rabbit farm near the seaside. The farm owner thinks that his bunnies don't get enough attention, so he is counting on Zee to make his farm more bunny-friendly. Help Zee populate the farm with lots of playful bunnies and decorate the whole place in a fashionable manner.
If you happen to know Zee and her pinkish bunny named Cute, than you probably know that they are BFFs and that Zee is just crazy about bunnies. Actually, she likes bunnies so much that she decided to buy a whole bunny farm.
She is really happy to be surrounded by all the cute bunnies, especially when knowing that these are no ordinary rabbits: they can change their color and know how to play all kind of funny games. Help out Zee with decorating her new farm and making sure that her new friends are having the time of their lives.
Invite friends to join the friv game and share with them the fun. This is a great opportunity for you to experience some other games similar to Geometry Dash Neon and Jam Gold Miner
Enjoy!
Rating: 4/5 (5 Total Ratings)
Free