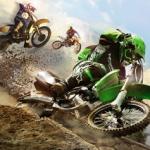 Desert Dirt Motocross
Welcome to friv 5 2017 and deal with new challenges in Desert Dirt Motocross, a hill racing, and driving motocross game.
Like other racing games, you hop on your dirt bike and ride passing through all high hills or dangerous turns to reach the finish line at the best time.
Remember that all damages to your bike and especially to the head of it will lead to losing the game and you have to begin from the start.
You can set the difficulty level to play normal or expert and show off your driving skill with 13 levels. A lot of skilled opponents compete you, so you must pick up coins, buy upgrades or new bikes in order to have more chances to win. Find out more racing games at Friv game free, for example…. .....Have fun! Instructions: Use arrow keys to balance and drive
Rating: 5/5 (1 Total Ratings)
Free