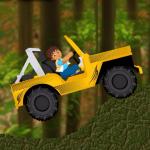 Diego Forest Adventure
Help Diego get the picture of the wildlife but be careful not to slap the banana peels of the naughty monkeys thrown at you.
You can play Diego Forest Adventure in your browser for free. Help Diego drives to the forest to rescue animals from the jungle. There is going to be a big topical thunderstorm anytime now. Finish all 8 levels to win the game.
Can you play this game? Click friv Games to play this game. If you want reading orther game , please go to blog http://friv5.me/ . Much Fun
Rating: 0/5 (0 Total Ratings)
Free