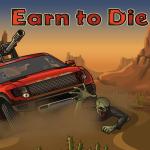 Earn to Die
Do you hate zombies because they are a dangerous threat of human extinction? Well, they have appeared on all paths in Earn to Die at friv 5 game. You can't have any way to kill them unless you are in your car.
Therefore, get on and drive it immediately so that you can eliminate all walking skeletons which are approaching you. Try to kill many zombies and drive your car as far as possible so that you can get a lot of money for upgrades.
This is necessary because waves of zombies are stronger and stronger. Try your best to kill all deadly walking skeletons!
You can spend your time exploring related games at online Games friv 5 such as... Earn To Die 2012 Part 2 , Earn To Die 2012
How to play? You will have to use the arrow keys to control your car. If you want to boost, use the X or Ctrl key.
Rating: 5/5 (1 Total Ratings)
Free