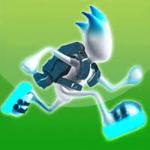 G-Switch
G-Switch is short for gravity switch in Friv5. A neat one-button jump'n'run game with a twist. Because you're not really running in this game, the character with the big shoes does it for you. You're also not really jumping, so much as switching the center of gravity to be above or below your screen.
That's why you only need to hit one button to let your character make it past obstacles and chasms on your dangerous track. G-Switch is a multiplayer running game (from 1 to 6 players actually) in which you need to make sure your character neither falls or flies off your screen. Your reflexes need to be on point to make it to the end of the level. Do you have what it takes?
Controls: Mouse / M / A / X / CTRL / Right Arrow / 3 - Switch Gravity
If you are keen on this type of funny game, rate it and share with your friends to have fun together. Explore more related games such as Hanger & Another Planet 2 at http://friv5.me/.
Rating: 3.8/5 (6 Total Ratings)
Free