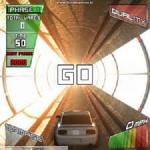 Gravity Driver
Are you ready to defy the gravity as a Gravity Driver at http://friv5.me/? In this game, you will be driving a vehicle in a futuristic setting and going up against many dangerous challenges. In this game, the gravity is not what you think it is. Unlike the normal racing games, the gravity works in every direction here, which means that you can drive on walls or ceiling and even performing flips and stunts.
However, the game still requires your ability to drive at full speed and avoid obstacles while tumbling upside down. Since the gameplay is fun and extremely cool, it's a great choice for sharing with your friends during the break. There is a barometer which controls your speed on the right side of the screen so that you can keep track of the current speed. Moreover, before reaching the next phase, you also have to reach a certain score as a benchmark.
The creators from Friv5.me racing games have chosen the best updates for this game to guarantee the optimum experience for the players. Keep in mind that you are not allowed to fall down the hole or the gap between the tracks. The futuristic layout is all the rage right now, so let's try it out now! Plenty of games with the same theme such as Tap Tap Parking and Super Car Endless Rush are available for free as well!
Controls: drive the car using the arrow keys and use the spacebar to hit the brake.
Rating: 4.7/5 (3 Total Ratings)
Free