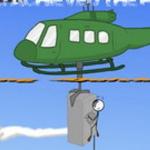 Infiltrating The Airship
Infiltrating The Airship is an online game that you can play on friv game for free. It's all about making the right decision in Infiltrating the Airship. Choose the right gear as you attempt to save your good friend Henry from the government by doing them a sly favour. The government want you to take down 'the Toppat Clan,' a group of malicious thieves. If you are successful in your mission, Henry will be returned to you. There are many ways that this can end with a spectrum of different endings, but the question is... how will this end for you specifically?
At each stage of the game, you are presented with a selection of options to choose from that will directly alter how stickman progresses through the story; will he infiltrate the airship using a block of c4? Maybe he will try his luck with a jar of acid or a simple knock on the hatch? Each choice will either result in a fail, or progression to the next stage, plus a large dose of humor and funny cut-scenes. If you make the wrong choice, fear not; each stage can be replayed, or you can replay the whole mission from the beginning.
Invite friends to join the game and share with them the fun. This is a great opportunity for you to experience some other games similar to Counter Strike De Hiekka and Subway Clash Remastered at http://friv5.me/
Features
Choice-based gameplay
Packed with humor and wit
A variety of different endings and possible outcomes
Rating: 4.4/5 (8 Total Ratings)
Free