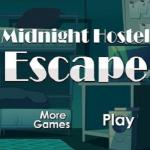 Midnight Hostel Escape
What would you do if you are locked in the hostel in the middle of the night? It's a silent midnight when you have already awakened from the hotel that you stayed in. Only now did you realize that you were trapped in the room and could not come out! What can you do? This interactive game from Friv games for kids will test your ability to deal with the puzzles under the intense pressure of having to get out.
In order to find the way out, you need to search every nook and cranny of the room to look for any hints. It's important to find all the useful items then follow the prompts to answer all the puzzles. Only by doing so will you be able to get the door key to the room. If you are new to this genre of games at http://friv5.me/, don't worry. A tip for you to make it through the game is to pay attention to any object that stands out. Also, the special symbols are also worth for you to look into.
You will have to deal head to head with plenty of unexpected challenges in this adventure. Are you ready to look for a path? Unlike the other escaping games, this game is not as easy because you have to think carefully and connect the available hints to get to another. However, fun is guaranteed indeed! Thanks to the beautiful graphics, you will be drawn into the game in no time! Come and try to solve the puzzles and quizzes in more games like Bob The Robber 2 and Jelly Escape.
Controls: Choose and interact with the objects using the left mouse.
Rating: 5/5 (2 Total Ratings)
Free