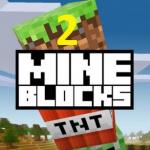 Mine Blocks 2
Are you a fan of Minecraft but do not want to install this game on your computer due to the disk space? Then, Mine Blocks 2 at friv 5 is a great alternative that you can enjoy instead.
Having the same concept with the famous version which is a block based adventure games, your aim is to build and create your own world following your creative with various blocks. In the very beginning, you collect wood to produce the basic tools like the wood axe, table and so on. Then, you will have the chances to get many advanced materials to create advanced things. You still have 2 main modes to play, which are survival mode and creative mode. What are you looking for at the survival mode? Of course, you have to stay alive.
You fight against the beasts and monsters. Staying safe, especially at night. You must build a cave to hide, then upgrade it to the modern one. In creative mode, there is no hunger creature here. You just free your creativity to build many great structures and create various impressive products. Discover more by yourself! If you want to find more related games, welcome to friv 5 games 2017 and enjoy Mine Blocks HTML5
Have fun! How to play: You the use arrow keys to move and jump, mouse to place blocks, mine, and select inventory items.
Rating: 4.7/5 (3 Total Ratings)
Free