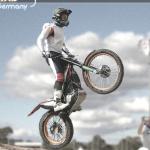 Moto Trial: Germany
An excellent moto game in which you can test your balance skills. Get over hard obstacles without crashing your moto. Be the first on the finish line and enjoy this realistic motorbike experience!
Friv5 Games - Places of addiction of all ages. Moto Trial Germany is another tricky trial bike game. This time in Germany! Show your skills in a trial bikes competition and complete all levels as fast as possible. Enjoy!

Controls: WASD/Arrows = Control your dirt bike, Q/K = Acceleration, Space = Brake
Why don't you try to play more with Moto Trial UK on Friv5?
Rating: 5/5 (1 Total Ratings)
Free