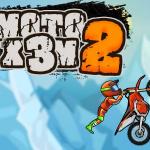 Moto X3M 2
Moto X3M 2 is the great motocross racing game to play at Friv 5. Enjoy the cold snowy mountains, where you have to prove you're the best dirt bike rider ever! Much Fun.

► Tutorial included in the game!
► Now available Moto X3M games and Moto X3M 3 is the latest installment of the Moto X3M series. Share them with your friends!
Rating: 4.8/5 (5 Total Ratings)
Free