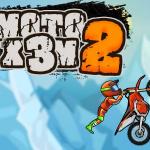 Moto X3M 2
Moto X3M 2 is an attractive and addictive racing game for everyone over the world. In here, you will have the chance to enjoy the snowy race track and show off your racing skills in the game. Click Moto X3M 2 at Friv 5 and laugh happily every time now. All you need is to control your motorcycle wisely, overcome all challenges and conquer every track on the way. Note that, another important task for you is to keep the balance of your motorcycle and avoid being destroyed in the game. Don't hesitate anymore! Much fun!
How to play?
Use arrow keys to move and keep the balance of the motorcycle.
► Now available Moto X3M games and Moto X3M 3 is the latest installment of the Moto X3M series. Share them with your friends!
Rating: 4.9/5 (22 Total Ratings)
Free