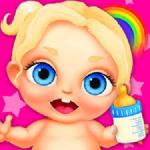 Newborn Baby Care
If you are great with taking care of the kids, how about trying out a new game: Newborn Baby Care to practice a little bit more! It's time to show off your skills with pampering the newborn baby nursery! As a staff from Friv5.me girl games, during your first day as a babysitter in the nursery, you will learn how to take care for these newborn babies and make sure they are happy, healthy and clean.
In order to do so, follow the detailed tutorial at keep check with each step to make sure that you are doing it correctly. The total task will consist of bathing, feeding and playing with the kids. There are a lot of adorable kids waiting for you, therefore, you will have to make the way through all of them and take care of the babies one by one. First, bathe the kids to help them become clean and keep the hygiene. Then, it's time for a little snack! Take your pick from the large collection at http://friv5.me/ to choose the suitable food for the kids.
After that step, it's time to entertain the little babies with toys, games and colorful pictures. If they get bored, they will cry loudly. Therefore, it's crucial that you prevent that from happening. Not only will this game test your ability in nursery care but you will also have fun taking care of the adorable and lovely kids. If you want to play more games, don't hesitate to check out Frenzy Babysitter and Baby Hazel Playdate.
Instructions: choose the items and interact with the kids using the left mouse.
Rating: 3.9/5 (9 Total Ratings)
Free