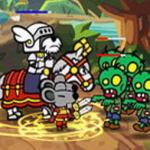 Paladog
Paladog is an online game that you can play on friv5 for free. You are the last hope of restoring peace in a world overrun by demons. You are Paladog - go save the world!
Jump on your horse and ride into battle in Paladog, a nice action game. Summon the mice and other creatures to kill the skeletons and take over their castle. Use the arrow keys to move you and your horse.
Send forces across attack the enemy. Use your Paladog hero to help with their downfall.
Check out more games like this such as Counter Strike De Hiekka and ET Game for the best playtime online and make friends with people from all around the globe!
Control: Move: A and D or Left and Right, Unit Selection: 1,2,3,4,5,6,7,8,9, Spells: J,K,L
Rating: 3.5/5 (2 Total Ratings)
Free