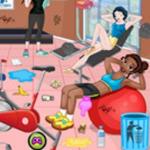 Princesses Gym Cleaning
Princesses Gym Cleaning is an online game that you can play on friv 5 for free.
or the Disney princesses on our website to look beautiful and stay fit, we have prepared for them a special gym where they can workout, but today dear friends you can see that they have came to the gym, but it's dirty and messy. In this new Princess games category, you will have the chance to meet with four Disney princesses that workout together, and which want their gym to be clean and beautiful again.
Many princesses are fitness in the Gym, But the Gym isn't cleaned too long. You should help them clean the place. You just need to collect the waste items in the garbage. And pick something which is in wrong place in proper place.
We have suggested players around the world how to play games and other games similar to this game like Glittery Genies Wardrobe Cleaning and Spring Elf Alice. You will love that special world.
Have a try at http://friv5.me/!

Yêu tinh mùa xuân Alice
Làm sạch tủ quần áo Genies
Rating: 4.3/5 (11 Total Ratings)
Free