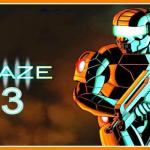 Raze 3
You have to shoot down enemies unless they will kill you, it is a fight' rule in Raze 3 at game friv online. To survive as well as win this game, you have to kill all your opponents appearing in battle such as aliens, zombies, robots… Do you know how to kill them? Use various kinds of weapons to eliminate them.
Remember that you only become stronger when you upgrade your warrior. What do you wait for? Play this game right now! Wish you successfully rescue the beautiful world at friv free Games from cruel monsters.
Is it sure that you are the best player? Continue to test your skills on similar games such as Car eats car 3 on Friv.
Controls: It is not difficult for you to control your character because you only have to use the W, A, S and D keys. If you want to aim and shoot down your enemies, use the mouse.
Rating: 4.5/5 (2 Total Ratings)
Free