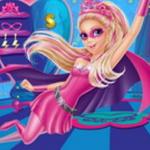 Super Barbie Hidden Objects
Super Barbie Hidden Objects is an online game that you can play on friv for free.
There are a lot of Barbie girl games waiting for you here on our site but the truth is that the most magical ones are also the Super Barbie games because in these ones, as you can see, Barbie is a superhero and that is really cool and we can promise you that you are going to have a super fun time together.
So we invite you to try out this Super Barbie Hidden Objects game which is of course a game in which your mission is to find the hidden objects, but this isn't just a simple everyday hidden objects game, after all you get to play with Barbie who is very excited to eb here. In fact your mission is to find Super Barbie's things she need.
Do not forget to share this fun game with your friends. And if you like it, play some other similar games such as Glittery Genies Wardrobe Cleaning and Spring Elf Alice. in http://friv5.me/. Explore these games and laugh happily every time now!
Good luck!
Rating: 3.9/5 (15 Total Ratings)
Free