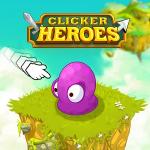 Clicker Heroes
Clicker Heroes is an idle game that you can play here on friv kids Games. Like Cookie Clicker, it is an idle game, except the player clicks on monsters to damage them so they can kill them and move to the next area. The player can buy heroes to cause increased damage over time, each of which can be upgraded, and some of which can give skills to help the player.
Explore the strange and fantastical realm of Clicker Heroes. Travel into dangerous plains filled with monsters that are kind enough to leave behind gold coins when slain. Exactly the kind of coins you need to spend to increase your ability to kill monsters faster. It's like a circle of perpeutal death! Hire new adventurers to help you go through each level and kill more monsters, and faster, too.
Before long you won't even need to hit them yourself. You just lean back and earn the rewards. Upgrading and improving your team of killers as you want. But be warned, you'll find yourself addicted to the cartoony carnage and slaughter of Clicker Heroes before you know it.
You may want to play the following games: Feather Hunter and DogeMiner. Many genres with a lot of fun games are updated every day at our site http://friv5.me/ and you can easily discover them with a few clicks.
Controls:
Use the mouse to play this game
Rating: 4/5 (5 Total Ratings)
Free