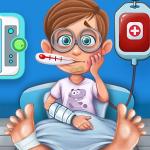 My Dream Hospital
My Dream Hospital is best emergency doctor simulator for all future doctors, nurses and surgeons that you can play here on friv to play. In this game, you are an accident and emergency doctor in charge of rapidly responding to patients that need your help. You need to try and clear out the surgery by nursing as many people back to health as possible. Every patient has a unique issue with them, diagnose them carefully and begin their surgery.
Start your medical career today and work at your dream job! Play doctor game with real surgery and operate now as a proper surgeon! You will have all of the required tools available to you, all you need to do is follow the on-screen instructions. Appreciate the polished 3D graphics as you help all of the people in the surgery one by one. Good luck!
It's not going to be easy at all, because dear friends you will have to make sure that in the shortest time, you can become one of the best doctor games from our website. Even though it's not going to be easy at all, you dear friends have the chance to become the best doctors, and you will see how many fun doctor challegnes are going to appear right here on our website.
Do not forget to share this fun game with your friends. And if you like it, play some other similar games such as Magic Kitty Caring and Popstar Dentist in http://friv5.me/. Explore these games and laugh happily every time now!
Controls:
Use the mouse to play this game
Rating: 4.1/5 (10 Total Ratings)
Free