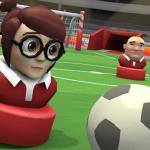 Strikers.io
Strikers.io is an addictive soccer game which is playable friv for kids. This is a frantic, fast-paced, physics based soccer / football game for everyone who want to play against human opponents. You will be playing a short 1-on-1 match against the randomly picked opponent from across the globe. Just move your player towards the ball and try to score more goals than the other player. Lots of pure fun!
In this game, your only goal is to score maximum number of goals before time is up. You will be playing for either red or blue team. So move quickly, don't lose the ball and use power kick ability to score the goal.
Take time to try and master the controls and the mechanism of the game. Watch and study your opponent's movements and take advantage of their tactical weaknesses to score goals and win the game. Your defense is just as important as your attack, stop your opponent from scoring then go up the other end and smash it in. Have fun!
There are also many related games available at http://friv5.me/. Feel free to visit and play anytime you want. Some great choices for you are Hordes.io and Tugs.io
Controls
Use the WASD or arrow keys to move
Space bar to kick.
Hold and release to do a power kick
Rating: 4.1/5 (7 Total Ratings)
Free