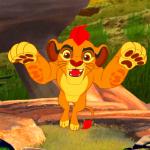 The Lion Guard: Protector of the Pridelands
The Lion Guard: Protector of the Pridelands is a game based on the animation The Lion Guard that you can play here on friv online Games for kids. In The Lion Guard: Protector of the Pridelands, characters taking turns 'patrolling' the Pride Lands and saving captured animals. Each character has their own style of play and are able to use a signature move when their gauge is full. Filling the gauge requires collecting Lion Guard tokens throughout the game.
The game runs like a distance game in and features an top-isometric view on the field. Your mission is to run forward and avoid obstacles like animals in a stampede, puddles, rivers, muds, and more. Run over trapped animals to free them and earn as bigger points as you can by covering as much distance as you can. Playable characters consist of Kion, Bunga, Fuli, Beshte, and Ono.
In addition, we also help players play at http://friv5.me/. to relax and comfort the most. Take your spare time to join new games and share exciting games with your friends. The joyful moments we recorded in new games like Nutty Mania and Animal Puzzle. Have you started with your exciting adventure yet?
Controls
Use the mouse to navigate
LMB to Interact
Rating: 4.1/5 (11 Total Ratings)
Free