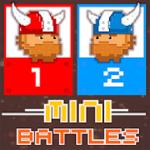 12 Minibattles
Playing 1 game already brings a lot of fun moments, but how about 12 of them? If you like mini-games and like to switch back and forth between them, 12 MiniBattles is a fun multiplayer game that is perfect for you! The game comes with a variety of games which will be unlocked when you finish the lower levels. Since there are many mini-games, your playtime with your friends will not be bored anymore! It's a physics style game with random genres at http://friv5.me/
Despite the games being different, all of these mini-games have a one-button control system to make it easier for players to experience for the maximum amount of fun. Two players can play this arcade game at the same time. The games vary in themes and gameplay, such as Soccer Physics, Gangsters, Vikings, and Cowboys. You will showcase your ability to score in a soccer match, to shoot some gangsters, to fight against the Vikings and many more.
The rule for each game is simple enough to draw the new players in and before you realize, you will be addicted to this game! Not only is the gameplay amazing but the graphics are also magnificent with a pixelated feature. Moreover, Friv5.me online also provides you with a detailed walkthrough in case you can't understand a certain point. Let's start having fun with more games such as Flappy Bird and Kizi Trek as well!
How to play: Player 1 uses A key, Player 2 uses L key.
Rating: 4.2/5 (5 Total Ratings)
Free