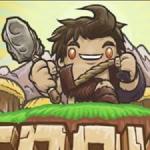 Aground
Challenge your surviving ability with a superb game of survival from Friv online games: Aground! You, the main character, are stranded in an uninhabited land with no supply and many threats to come. First, choose the hair color, clothes and other features of your main character. Now enter any server that you like and the game will starts!
In order to survive against the heavy storm that approaches, it's crucial to collect as many useful resources as possible such as wood and stone. Then, you can use this material to construct a shelter. A tip is that beside the ground, you can mine underground and forage for berries and food as well. Be careful as the land is full of wild animals hidden around. These animals live on land and underwater, which poses more threats for you, They may attack you, therefore, a good weapon will be valuable to survive in the middle of the wilderness.
Pay attention at the energy bar on the top of the screen since it's an important feature. At http://friv5.me/, this stamina bar shows your energy level. Do not let it deplete otherwise your character will not have the power to do anything. Create an alliance with others in this game and prosper more! Keep in mind that building a community from scratch is the ultimate goal of this game. Play more action games with other choices like Pixel Warrior 2 and Kogama The Elevator.
How to play:
Use WASD or arrow keys to move around
Z to interact
X to cancel
I to use items
Q to open quest
Rating: 2.5/5 (6 Total Ratings)
Free