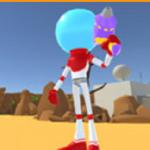 Alien Shooter
Most of the shooting games are coming with a 3D design and amazing graphics at Friv games for free. One of the best choices for fans of shooting games with such great graphics is the Alien Shooter free game. When Aliens invade the Earth, you are the only one left who can manage to shoot down these creatures and save the planet.
As it is a 3D game with a large map, it might take a while for the players to get used to the movement of the game screen and the character. You will control the solider to move around the map and search every nook and cranny to find the aliens. When they show up, aim precisely and shoot all of them down as fast as possible. If you take too long to shoot, the aliens will move closer to your position, which turns you into an easy target. Moreover, each player in the game at http://friv5.me/ only has a limited number of bullets for each round.
After the bullets run out, you need to reload and search for more! Avoid being shot at by all means. In case there are too many enemies, you can take advantage of the bombs and other ammo to blow them up faster. Don't hesitate to keep advancing and discovering more mysteries in this abandoned land. The best players in this game will be the one who can showcase amazing shooting and navigation skills. Come for more shooting games like Combat 4 and Bullet Fire.
How to play: Use the mouse cursor to navigate and click the left mouse to shoot.
Rating: 2.5/5 (2 Total Ratings)
Free