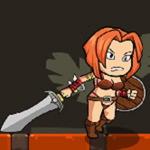 Amazon Adventures
At Friv land, Amazon army is famous for having the best female warriors. They possess the best skills and they are the only ones who can defeat the monsters. Let's come on an adventure with a beautiful Amazon girl and help her out! In order to defeat the monsters inside the cave, first, explore the terrains and layout of the location to get the upper hand.
As you will enter some different dangerous caves, keep your eyes open and stay focus because the monsters will appear randomly at random places. You can choose to avoid the monsters by jumping up the blocks to hide. Or you can choose to confront and kill them off. Not only is your task to help her to kill enemies but you will need to avoid all the obstacles as well. Don't fall down the spikes holes or any gaps between the blocks.
In order to bypass a level, make sure to gather as many coins as possible. These coins are scattered on your path and hidden after some blocks. Don't forget to break down the blocks with the question mark to discover what's inside. You might get some bonuses or unexpected weapons! Collect diamonds and blood bottle will help finish the task faster and easier thanks to its special features. The game is available for free at http://friv5.me/. More and more fun games will be uploaded daily, so don't hesitate to check out Miner Block and Tomb Runner.
Instructions: Move using the left and right arrows and click the buttons on the screen to attack.
Rating: 3.8/5 (5 Total Ratings)
Free