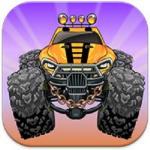 Biggy Race
The hardest car to control is the monster car and the hardest road to drive on is the rugged ones. But in this new game from Friv racing games, you will have to challenge yourself with both of these. Are you ready for the ride of your life with Biggy Race? The rule of the game is very simple yet incredibly fun to play.
Each of the players has his or her own monster car when first entering the game. As each player choose the first level, your job is to control the movement of the car, drive it to the finish line and collect all the stars you can. Not only would you learn how to drive your great car but you can also enjoy the experience of a monster car racer. Moreover, collect money and stars to purchase new cars! The hard part is that you need to overcome the bumpy roads, rugged terrains and many rocks, cliffs on the way.
These obstacles will pose threats and dangers to the car. It's your job at http://friv5.me/ to make sure the car is perfectly balanced and keep rolling. Keep your focus, be flexible with control keys and you will manage to win the game! A tip for you is that sometimes high speed is not what you need. It's crucial to control the speed wisely depending on the terrain and background. If this is your type of games, don't hesitate to try out more games like 4x4 Monster 3 and Highway Squad
Instructions: Move the car using the left arrow key, Use the brake with the right arrow key.
Rating: 4/5 (5 Total Ratings)
Free