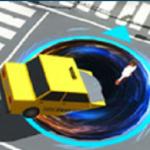 Black Hole.io
Get sucked into the black hole and the addictive gameplay in Black Hole.io, a new game from the io genre that you can play for free at Friv io games! In this game, the rule is built based on the magical black hole, a special substance that can devour everything in the world. As the game takes this as an inspiration, you will enjoy the satisfaction of using the black hole as your powerful weapon and swallows all the objects.
Each player starts at a different point on the huge map. You only have a tiny black hole. In order to survive and avoid being destroyed by others, you need to constantly move around and find things to swallow, even if they are the surrounding houses and smaller black holes. Remember the main rule is that only the bigger holes can consume the smaller ones. Don't crash or come near the biggest holes as you will be defeated immediately.
At http://friv5.me/, the players get stronger quickly as there are many bonuses scattered around that they can pick up. This is a multiplayer online game which allows you to play simultaneously with the toughest competitors around the world. Can you manage to show your powerful holes and dominate this map? This game has an amazing 3D design and realistic graphics to help the players feel the vibe of it more easily. If you love this type of game, don't forget that we have some more options like Bomber7.io and Hordes.io
Controls: Move the blackhole and interact using the mouse cursor.
Rating: 3.9/5 (21 Total Ratings)
Free