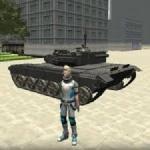 Cars Thief 2 Tank Edition
Are you ready to go on the most ambitious job in Cars Thief 2: Tank Edition with Friv5.me racing games? Only in this game will you be able to experience a real car robbing scheme! When stealing cars gets too easy, it's time to go joyriding in a tank! Your mission in the game is to assist the mastermind behind the car thief and pull off this biggest and boldest job by stealing as many cars as possible. However, don't let the police and the other opponents get to you.
Avoid all the giant explosions, car demolitions, and police to stay safe on the street. You can steal any model of cars even the tanks. Then, don't hesitate to experience some actions including the drifting, smashing, crashing into the others or just going for a walk around the map. Keep in mind that one of your most powerful weapons is your immense cannon which can be used to wipe out the enemies. It all about maximizes the damage range in this game at http://friv5.me/
How much destruction can you cause with these mighty military vehicles? Join this expert car thief scheme and show us your flexibility as well as the ability to stay calm under pressure. This new version also comes with incredibly realistic graphics to satisfy even the toughest players. Besides this game, other choices like Highway Squad and Solid Rider 2 are also available for free!
Controls: Use the WASD or arrow keys to run, Shift to walk around, F to enter a vehicle and left mouse to choose the items and interact.
Rating: 4.2/5 (29 Total Ratings)
Free