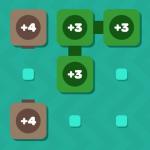 Chain Sums
The most amusing math game has just come to Friv land! Are you confident with your calculating ability? Since the goal of this game is to connect all the tiles to get to target sums, we need the players to stay focus and think fast. On each level, you find different target numbers displayed on the top of the game screen. Depending on the difficulty of the level, there might be more than one targets that you need to accomplish.
On the grid, many different tiles, each with its number, are placed randomly. First, you need to take a look around and remember the number. Then, move each tile to the desired location to make sure that two tiles can combine and make the target number. Try to create groups of tiles to get to the target numbers at the top of the screen to clear the level and move on to the next one.
It's all about calculating with cute graphics and smooth transition, as well as fun gameplay which is coordinated into the game at http://friv5.me/. As you reach higher levels, it will be harder to make the target number. Sometimes, it takes more than one tiles. Make the most chains to gain high scores and compete with your friends! Also, the game will enhance your math skills and improve the calculating ability. After this, try out some other games such as Block Puzzle Plus and Mahjong Dark Dimensions within the same category.
Instructions: Click on a tile to move that tile to the desired block. Click on two tiles to swap their location.

Rating: 3.7/5 (3 Total Ratings)
Free