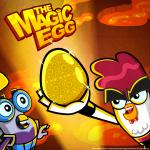 Chuck Chicken The Magic Egg
Chuck the chicken is the new type of hero from Friv land! Chuck Chicken: The Magic Egg with the best graphics and fun platform to make your time much more interesting and exciting. Join the new journey to sweep off all the bad guys in town. The main job is to control the mighty chuck the chicken. As the hero, he is equipped with a bag of golden eggs which he can use to defeat the various villains.
One of the best parts is that you will help the chicken fight the villains in the most beautiful and carefully drawn details background. The layout is very cool and pretty as well. First, choose the layout and the level that you think is the most suitable. Then, start shooting the golden eggs toward the direction of the other chickens to kick them off the blocks. This game from http://friv5.me/ has some similarities in the gameplay to the iconic Angry Birds game.
Also, keep in mind that you only have a limited number of eggs to throw on each level, therefore, come up with the best strategy to minimalize the eggs used. The fewer shots you use, the more stars you earn and you can purchase some cool stuff from the store. Go on the new journey to rescue your fellow chicken friends! More fun physics-based arcade games that you can try are Chicken Dodge and Fist Punch 2
Instructions: Use the left mouse to aim and shoot at the other chickens.
Rating: 4/5 (5 Total Ratings)
Free