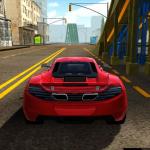 City Stunts
Controlling the cars is hard enough, but what about performing stunts? In this new Friv racing game: City Stunts, the players will have the chance to show off their dare-devil sides and tackle these new challenges. Enjoy the best ride with the fanciest cars for free! Driving in the big city is fun, especially when there is no one else around.
The creators of the game made a unique layout and great settings, as well as elaborated graphics to make sure that the racers in this game at http://friv5.me/ can make the best of their time. You can choose any car that you like and drive around in the abandoned city. Perform some cool stunts on the set tracks by taking advantage of the obstacles and the infrastructure! It's the best way that you can achieve high scores. But the ultimate goal is to enjoy the ride and improve your driving talents in a place with no obstacles and people.
The first thing that players need to do is to choose your favorite car. Then, start the engine and explore. Pay attention to the barometer and the speed to adjust in time. Also, there will be extra scores for some special items so keep an eye for those. Racing games are evolving and you can also try out more unique gameplay with Gravity Driver and Lada Russian Car Drift. Plenty of great drivers have left their high scores on the board. Will you do the same?
Controls: Control the car movement using the arrow keys and interact using the mouse cursor.
Rating: 4.7/5 (75 Total Ratings)
Free