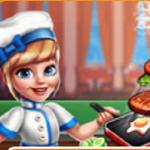 Cooking Scene
If you have ever dreamt of owning a restaurant of your own, it's time to practice and prepare for your dream at Cooking Scene. This is one of the best cooking games from Friv5.me online games, so we guarantee that not only will you be able to learn more knowledge but you can also have fun! Will you be able to meet the demands of various customers? If you do, it's the opportunity to realize your business dreams!
In order to pass each level, you will have to make different foods according to the order of the customers. Plenty of customers visit your restaurant, however, at some point of the day, there will be a rush hour when the number of customers is huge. That's when you need to keep calm and take the order one by one. For the dish that you don't know the recipe or the process, just check the tutorial at http://friv5.me/
Players of all ages have played the game and learned so many new recipes to use in real life as well. Why don't you give it a shot? The graphics and colors of this game are amazing and realistic to help the players feel as if they are cooking for real. Don't miss out on the delicious dishes with the talented chef who will help you through the game. More girl games like Papa's Donuteria and Barbie Birthday Cake will bring lots of fun to your playtime as well! Let's start cooking and show us your skills with the pans, the spatula and many more!
Controls: choose the dishes and cook with the left mouse.
Rating: 2.7/5 (3 Total Ratings)
Free