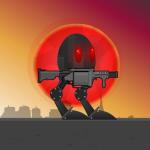 Eggbot Vs Zombies
The zombies are dominating the world of eggs and there is the only one can reverse the situation. Eggbot Vs Zombies is the updated version of the egg series. The egg bots are the chosen one left to quarantine the scary zombies. As a brave egg warrior, you will have to bear this important task from Friv games for kids.
Using the outstanding power of the egg warrior, you will be able to shoot evil zombies with the weapons in your hands. You need to try and survive for as long as possible in this action game. Also, buy the guns, open up the doors, find the box and use the teleporters to move from one place to another. Of course, you must avoid zombies attacks. If you fail to do so, you can also be contaminated to the disease.
In this game at http://friv5.me/, the players must use the superb shooting skills to survive in this dangerous world. Remember that only when the gun frames appear on the screen can you choose to use that type of gun. Which kind of guns will you utilize? Keep shooting and figure out the way to escape. Let's test how many monsters you can kill and then try out some other games such as Orcs Attack and Zombie Apocalypse.
How to play: AD or left/right arrow to move. W or up arrow to jump. Left mouse button to shoot, E to use the weapons, F to throw the grenade, R to reload and Q to switch weapons.
Rating: 5/5 (1 Total Ratings)
Free