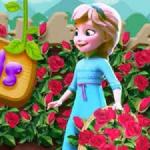 Elsa Garden Tools
Elsa is working in the Queen's back garden at Friv world. Since she wants to learn planting roses, she would have to do everything from scratch. Therefore, there are so many things that need to be done. Will you be her assistant and help her out with this busy job? Working on the farm is not an easy task. You will need patience and carefulness to take care of the rose from when they were just little bulbs.
When you first enter the game, you will see a piece of land on which scattered some seeds. It's your job to grab all the tools that Elsa needs. Both of you will grow the seeds to make beautiful roses. Take each of the tools such as the shovel, the hammer, the bottle of water, the fertilizer and many more. Keep in mind that whenever Elsa calls you, you need to be ready to give her that exact equipment. Also, don't mistake one tool for another, or else the capacity of the garden will be reduced significantly.
Each tool is suitable for one step only, so make sure that you grab the right one at http://friv5.me/. Hard work pays off, so when you collect the beautiful garden, you can give them to the Queen with Elsa. It's a great game for the girls to enjoy during their free time thanks to the bright and vibrant graphics, as well as cute Elsa and the smooth transition to satisfy the players. Let see how beautiful your roses can be! Join some other girl games like Little Farm Clicker and Magic Kitty Caring to show us your skills as well.
How to play: Use the tools using the left mouse.
Rating: 5/5 (2 Total Ratings)
Free