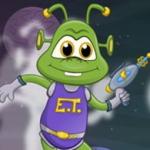 ET Game
ET Game is an online HTML5 game presented by http://friv5.me/, it's playable in browsers such as safari and chrome. You can play the game on smartphone and tablet (iPhone, iPad, Samsung, Android devices and Windows Phone).
E.T. Game HTML5 Platform is a very cool platform side-scrolling game, it's like the Super Mario. You need to pass 10 different levels, in every level you need to get 3 stars to open the door to the next level. There are many obstacles and monsters on the road, kill them using your gun. Take an adventure with this cute E.T.
In addition, you also have the opportunity to participate in numerous other similar games like Counter Strike De Hiekka and Batman The Rooftop Caper. Each game has its own content and you can save them to explore.
Rating: 5/5 (917 Total Ratings)
Free