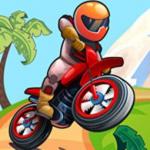 Extreme Bikers
Play Extreme Bikers game online at http://friv5.me/. Extreme Bikers is one of our hand picked racing games that can be played on any device.
Hop on your bike, ride and jump. Execute stunts perfectly, avoid obstacles and reach the end safely.
These bikers are about to take on a few of the world's craziest race tracks. Are you ready to join them in this wild racing game? Jump on your bike and see if you can get past all the barrels, barricades, metallic contraptions covered in spikes, and much more!
You will also expand your favorite game world with a lot of similar games like Box10 Bmx and Furious Road Surfer. Sure this journey will surprise you with your choice. Don't hesitate to enjoy that world.
Rating: 4.9/5 (956 Total Ratings)
Free