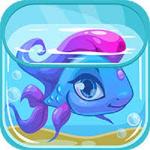 Finding Fish Makeover
A unique salon opened at Friv girl games! Will you be able to manage the daily work of a salon in Finding Fish Makeover free game? This is one of the latest games for girls who enjoy learning the tips and tricks of makeup and dress up. As the owner of the salon, it's your job to care about the little fish in fishy pet salon!
Each and every one of the customers has its own needs and demands. Your job is to follow the steps as you prepare them. They need to be cleaned, dried, taken cared of and loved! The main goal is to give each fish a fabulous makeover. Before jumping into the main steps, the most basics preparation should be cleaning. First, use the given shampoo, lotion, soap and many more to clean the outside of the fishes in http://friv5.me/. After finishing with this step, utilize the bubble to airdry them before moving on to the next steps. Choose from a large collection of makeup tools and pieces like eyeshadows, lipsticks, blushes, eyeliners and many more.
Don't hesitate to use anything that you need to make sure of a perfect transformation for the customers! As you progress throughout this game, new customers will be added to spice up the gameplay. Not only will you be able to show off the beautiful makeup design but you can also share it with friends and family for free! Plenty of other games from the same category are ready for you to discover such as Frozen Baby Bedtime Caring and Winter Shopping.
Instructions: Interact with the fish and do the makeup using the left mouse.
Rating: 0/5 (0 Total Ratings)
Free