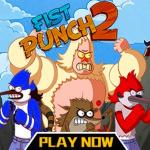 Fist Punch 2
Fist Punch 2 has just been added to Friv new games in order to allow players to experience the fantastic fighting game from Cartoon Network! The game features characters from your favorite shows for a brand new journey. Join Mordecai and Rigby and enter the level! It's a fighting game in which you can choose your own character. Make a wise decision based on the available statistics of each character. The players will have to defeat every enemy using your legs and fists!
Punch, hit, throw objects and take advantage of your own fighting techniques to win the levels. As you progress to the higher levels, make sure to use a combination of punches and kicks since your enemies have become stronger. Also, keep an eye on your special bar as it fills up to know when you can use the special effect that once unleashed, it can sweep out many enemies at the same time.
A lot of funny weapons such as the French bread stick can be found along the way. Don't forget to consume food to restore the characters' health and energy. The game at http://friv5.me/ allows two different players to play together on the same keyboard, which means that you can choose to play with your friends or play against the CPU. It's up to you! Challenge more scary opponents with other games such as Santa Claus Jump and Eggys Big Adventure.
How to play:
Player 1: Use Arrow keys to move, K to jump, L to attack and grab items, K and L to use special power.
Player 2: WASD to move, G to jump, F to attack and grab items, G and F to use special power.
Rating: 4.7/5 (19 Total Ratings)
Free