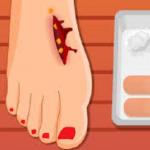 Foot Surgery
The girl's foot was injured badly, therefore, we need a great doctor to give her a surgery. Will you join the operation team in Foot Surgery girl game at http://friv5.me/ to help her out! The doctor that we are looking for should have all the skills and necessary knowledge of this kind of surgery. You will be in charge of cleaning the wound with the cotton ball. Then, it's time to perform the surgery.
Stitching up the open wound and applying the treatment are the most important steps to make sure that it is perfectly taken care of. After one week of medical treatment, the patient will come back for a check-up. You should check the wound to see whether it is open or not, then apply a new layer of ointment and cover it up. When it's all good, how about making her a new set of manicure? Her nails are all broken from the accident, so let's use your artistic skills and creativity to draw the beautiful patterns.
Friv5.me girl game offers you a wide range of patterns and decorating pieces to use for this step, so make sure that you check out the whole collection! Girls from all around the world have played this amazing game during their free time, will you? Not only will you be able to help the little girl but you will also get to enhance your techniques with the manicure. Come and create great memories now! For more girl games, try out the others like Magic Kitty Caring and Anna Baby Birth.
How to play: cure the injury and draw the manicure with the left mouse.
Rating: 3.8/5 (16 Total Ratings)
Free