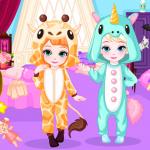 Frozen Baby Bedtime Caring
Frozen Baby Bedtime Caring is a very cute baby game on friv5. When participating in Frozen Baby Bedtime Caring, the player will take care of sleep for two adorable babies with specific tasks such as picking items. Sleep and find things to help the two girls sleep better. Help the two parents to bring good sleep to these two little angels.
You can play the game on smartphone and tablet (iPhone, iPad, Samsung, Android devices and Windows Phone). It's bedtime! Frozen baby sisters Elsa and Anna need to go to bed. So, let's help them put on beautiful and comfortable pajamas. Hey, girls, it's ok, go to sleep now. But,we still don't want to go to bed, can you find the objects which will make our bedtime easier, the sisters said. Sure, we can. Find all objects they need, feed them milk and listen to a lullaby for them.
Can you play this game? Click friv Games to play this game. If you want reading orther game , please go to blog http://friv5.me/ . Much Fun
Rating: 4.5/5 (8 Total Ratings)
Free