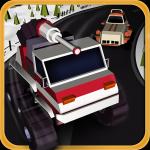 Furious Road Surfer
Driving has always been the inspiration for many online racing games, each with its own unique gameplay and features. But the same point is that all of the driving games are fun to play! Challenge your driving skills once again with Friv racing game: Furious Road Surfer. Don't collide or crash into any other cars in this game.
Before starting any race, the players need to choose the individual car features including the handle, speed, acceleration, and brake. After you are satisfied with your customized car, take a pick among the various terrains and backgrounds at ... Some of the terrains are harder to conquer than others, so choose wisely. For example, driving on the snow on the mountainous areas will definitely have more dangerous obstacles than driving on the desert. The goal is to kick the other players out of the lanes before your gas tank runs out.
Your scores are decided based on the length that you manage to drive. As you gain money from the races, don't forget to go to the stores and switch up some good updates at http://friv5.me/. This will help increase your car's speed and capacity, even on the snow or the sand. It takes some serious skills to be able to balance the car on such difficult terrains and reach the finish line in time! If this is your kind of games, keep playing some more with Lada Russian Car Drift and Highway Squad.
Instructions: Drive the car using the arrow keys or WASD keys. Interact using the mouse cursor.
Rating: 4.6/5 (12 Total Ratings)
Free