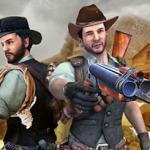 Gunslinger Wild Western Wolf
Gunslinger Wild Western Wolf is the western shooting game in which you must join the famous cowboys of the wild wild west. The civil war still rages on in the 1861 to 1865 era and dangerous shooters such as Billy the Kid and Geronimo have met in one place with one task – to be beat you in a duel.
Join the western war and visit the areas built by the native Americans. This multiplayer shooter game allows you to fight in the war against other players as you pick your side. The native Indian Americans or the cowboys. Have Fun!
mouse = SHOOT

SPACE = JUMP

SHIFT = RUN

C = CROUCH

R = RELOAD

1-4 = WEAPONS

L = SHOW MAP
If this game impresses you, share it with your friends to play together and have fun. Besides, don't miss out similar shooting games such as Counter Strike Revenge & The Evacuation at friv 2018. Have fun!
Rating: 3.4/5 (8 Total Ratings)
Free